Kia ora,
Our tap selection changes constantly (every 3-4 weeks) with no particular flagship beers.  Feel free to subscribe to our site to receive updates on our tap selection.
Ginga Wheat: American wheat beer with fresh ginger, lemon, and local honey.
ABV: 5.5%
Pot Hat Cider Late Harvest: Winesap and Johnny Gold apples from Brown's Orchard in McDonald, PA.
ABV: 7.8%
Roundabout Stout: smooth stout with medium roast coming from the barley
ABV: 6.5%
Cadwallader IPA: featuring Nelson Sauvin, Galaxy, Mosaic and Cascade hops.  Notes of melon and citrus coming from the hops.
ABV: 6.5%
The name is a bit of a tongue twister and it makes me smile when I say it wrong. The name is a nod to two New Zealanders who have recently "bought the farm" so to speak.
I was sad to hear about the passing of Murray Ball last month. He was the creator of the humorous Footrot Flats cartoon/comic strip world famous in NZ. However, it was the pic posted below by Pip Larner/Instagram that sent a wave of childhood nostalgia crashing down. Silly to shed a tear over graffiti of Dog. I think it was the star.
NZ comedian, John Clarke aka "Fred Dagg" passed away this week. I imagine every NZ farmer was a bit of a Dagg.
The 1986 animated film, Footrott Flats – A Dog's Tale, provided the chance for John Clarke to voice Wallace "Wal" Cadwallader Footrot. Any kid growing up in NZ during the 80s knows this flick, as well as the soundtrack.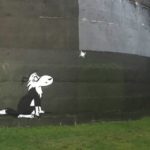 "And now pitching" Gose – Sour German wheat beer with salt and coriander
ABV: 4.6%
McShovin Scotch Ale – A scotch ale yeast accidentally arrived at the brewery so we decided to brew a scotch ale.  This ale starts sweet and finishes sweet with notes of toasted caramel.  We named this wee heavy after Steel City Roller Derby jammer, McShovin.   In roller derby, you never underestimate the power of a well planned block, even if that player is half your size.  McShovin appears to be slight in build, but she'd gladly sneak up on you and send you flying off the track if given a chance.  This tawny brown ale is a little higher in alcohol and could also sneak up on you if you're not careful.
Luckily for visiting derby teams, McShovin is now a retired player and is now reffing (an equally challenging position) for Steel City Roller Derby.
ABV: 7.5%
Tunnels and Bridges – brewed here w/ the brewers of Hitchhiker Brewing.  Crisp lager w/ notes of lime zest and eucalyptus coming from the Wakatu, Aussie Summer, and Loral hops.  
SPECIAL BOTTLE RELEASES:
Heini's Good Cheer 2016:  SOLD OUT A tawny colored bourbon barrel aged old ale with aromas and flavors of vanilla, oak ,caramel, citrus, cocoa powder and warming alcohol.  Carbonation is low to not take away from the residual sweetness.  Enough initial bitterness and proper bottling allows for some cellaring at 55 F or lower. This batch of old ale is a blend of 2015 old ale (aged in sour mash rye barrel from Finger Lakes Distillery), 2016 old ale (aged in wheated bourbon barrel from Smooth Rambler) and 2016 old ale (aged in single bourbon barrel from Smooth Rambler). Heini was a dear friend of Steve's while Steve was living in Germany many years ago.  We raise a glass of good cheer in honor of Heini and his generous hospitality.  Available in 22 oz bottle to go, as well as on tap
ABV: 9.8%
Fun Fact:  Heini's Good Cheer 2015 won the 2016 World Beer Cup Silver Award in the Old Ale or Strong Ale presented earlier this year after the 2016 Craft Brewers Conference in Philadelphia, PA.
Intersection 2016: American wild ale, blend of sour wheat wine, wine barrel aged farmhouse ale with brettanomyces and Ferdl Bock.  Brettanomyces characteristics in the aroma, with a tart fruit flavor.  Dry finish. On draught and bottles.  BOTTLES SOLD OUT
Intersection 2016
53% Sour wheat wine
40% Akaroa farmhouse ale aged in a wine barrel with brettanomyces
7% Ferdl Bock Weizenbock
ABV 7.2%.   Bottle conditioned. Decant slowly.  Can be cellared below 60F.