We opened our doors on July 12, 2013 with growlers sales only.  On May 18, 2014 we started selling by the glass.  We now have 12 oz and 16 oz pours available in our tasting room.  Please check out our On Tap page to see what is available.  Stop in for a pint or grab a growler to go.  Please scroll down for our very limited food menu.
Regular Hours (scroll down for any changes to our regular menu)
Wednesday – Thur – Fri 4:00pm to 10:00pm 
Sat 12:00pm – 10:00pm
Sun 12:00  – 7:00pm 
We are closed on Mondays and Tuesdays.
Menu/Food Truck Schedule
We do not have a kitchen in the brewery, therefore, our menu is rather limited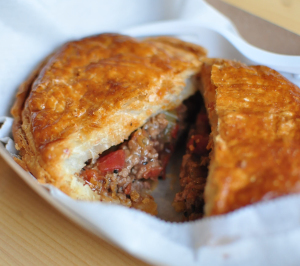 LITTLE ROUND PIES

$6 each – we are very excited to have partnered with The Pub Chip Shop for our New Zealand style savory pies.  These bundles of warmth and deliciousness feature a short crust with a savory filling and topped with flaky pastry.

Lamb – lamb with gravy

Potato – potato, leeks and cheese

Curry Sausage Rolls – savory pork with yellow curry and potatoes wrapped in flaky pastry
NIBBLES BOARDS
Our Nibbles Board features an ever changing selection of cheeses and meat.  Cheeses provided by Wheel and Wedge.
Leona's Ice Cream Sandwiches
100% REAL DAIRY,
100% LACTOSE-FREE.
SO THAT EVERY BELLY CAN ENJOY!
FOOD TRUCK SCHEDULE
Week of 1/03/18  
SAT – Blowfish BBQ Cart
BYOF or call out for delivery any day of the week
Piccolo Forno 412-622-0111 pick up only
Available on Grub Hub for delivery
Spirit Pizza   – 412-586-4441 for pick up
Michigan and Trumbull Pizza