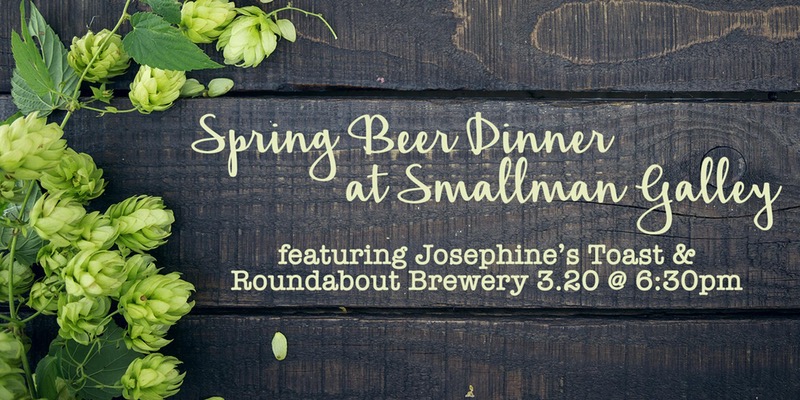 Come celebrate the Spring Equinox with some great food and beer!
On Monday, March 20th Smallman Galley will be hosting the next event in our Craft Beer Dinner Series. The evening will feature a collaboration of Jacqueline Wardle of Josephine's Toast, fiance and fellow culinarian Nathan Schoedel, as well as Roundabout Brewery–including a reception and four course dinner with pairings. (See menu via Eventbrite link). Tickets are $65 per person, including tax and gratuity. Seats are limited to 30–so don't wait to book this exclusive dining experience!
https://www.eventbrite.com/e/spring-beer-dinner-tickets-32474772920?aff=es2
MOOS and BREWS at Roundabout Brewery
NEW DATE: Tuesday, Dec 13th from 6:30pm to 8:30pm 
NOW SOLD OUT
Where: Roundabout Brewery, 4901 Butler Street, PGH, PA 15201
What:  Join Wheel and Wedge and Roundabout Brewery for a cheese and beer pairing class at the brewery. Alix Hoylman, owner of Wheel and Wedge, along with Dyana Sloan, owner of Roundabout Brewery, will lead the class on a delicious and educational adventure into the world of beer and cheese.
In addition to our traditional class, all the pairings will be available for purchase afterward so that you can create your own pairing experience at home or just have some tasty treats on hand for the holiday. Cash or credit accepted and bring your growlers!
Event will be held rain, snow or shine. Cancellations must be made at least 24 hours before event for a full refund.

SOLD OUT
Our 3rd Annual Smoketoberfest will be held Sunday, October 9th at the brewery. We're shutting down 49th Street so there will be plenty of room for outstanding smoked cuisine from local vendors and great live music. We'll have a number of specialty Roundabout beers including a few smoked varieties.
OK, ready for the local vendor details?
Asado Food Truck (Gaucho)
PGH Smokehouse
Butcher on Butler
Driftwood Oven
Leona's Ice Cream Sandwiches
$20 plus tax and fees
Ticket price includes:
Event glass
First beer free
Food sampling (small bites from each vendor)
Live Music:
The 9th Ward
Chrome Moses
James Hart
This event is rain or shine!!!
All sales are final.

Join us Tuesday, May 24th for a beer dinner with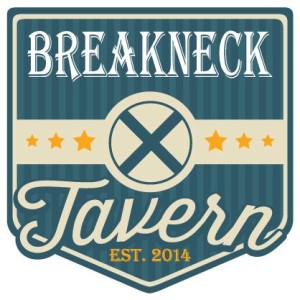 https://www.facebook.com/events/1713430995541419/
Chef Martin Lamarche gave us a quick menu preview and it is clear he has taken his time to pair 5 of our beers with dishes guaranteed to make my heart ache for New Zealand a little more than usual.  Leg of Lamb Schnitzel, Green Lip Mussels, Pavlova, and Afghan Biscuits (NZ cookies) have me really excited for this event.
Please call Breakneck Tavern for reservations – Phone: 724.625.9150
 


We're releasing a few barrel aged beers to pair along with brick oven pizza from Driftwood Oven.
Bourbon barrel aged Bardstown Stout w/ tart cherry 12/16/32oz
Bourbon barrel aged Pumpernickel Porter on nitro 12/16oz
BA (rye and bourbon) Heini's Good Cheer 2015 10oz
Rum barrel aged Gui (Maggie's Farm) 10oz
Beer starts flowing at 12pm and the pizza starts baking at 1pm
Heini's Good Cheer
Bottle Release
Tuesday, Dec 22 4pm – 10pm
We've got the 2015 Heini's Good Cheer Barrel Aged Old Ale bottled and ready to go. 2015 Heini's Good Cheer is a blend of 2014 (bourbon barrel) and 2015 aged in rye barrels with notes of vanilla, light toffee, and rye. 22oz bottles with a 3 bottle limit.
We will also have an unblended, single bourbon barrel aged 2014 Heini's on nitro, as well as the 2015 Heini's blend on draft.
We followed the advice of Alix from Wheel and Wedge to pair these ales with Carr Valley's Ba Ba Blue cheese. We'll have that delicious pairing available in the tasting room.
We have featured Crested Duck salami on our nibbles board for a while now and we were very sad to hear that they will close at the end of the year. We will have a special Crested Duck charcuterie board featuring 3 incredible selections.
Goat Rodeo Cheese Tasting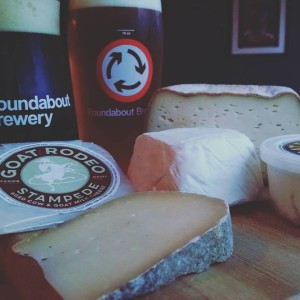 What: Cheese tasting, fresh goat cheese, aged cow/goat cheese and more
Who: Goat Rodeo
When: Sunday, Nov 22
Time: 1-4pm
Where: Roundabout Brewery
Why:  Because this locally owned and operated farm and dairy craft amazing cheeses.  Get some great beer/cheese pairing ideas for the holiday season.  Come on down and meet the cheese maker, Matt Rychorcewicz.  If you are a Roundabout Brewery regular you will recognize Matt as our former assistant brewer / tap room tap-handler.
RUGBY WORLD CUP FINAL
AT ROUNDABOUT BREWERY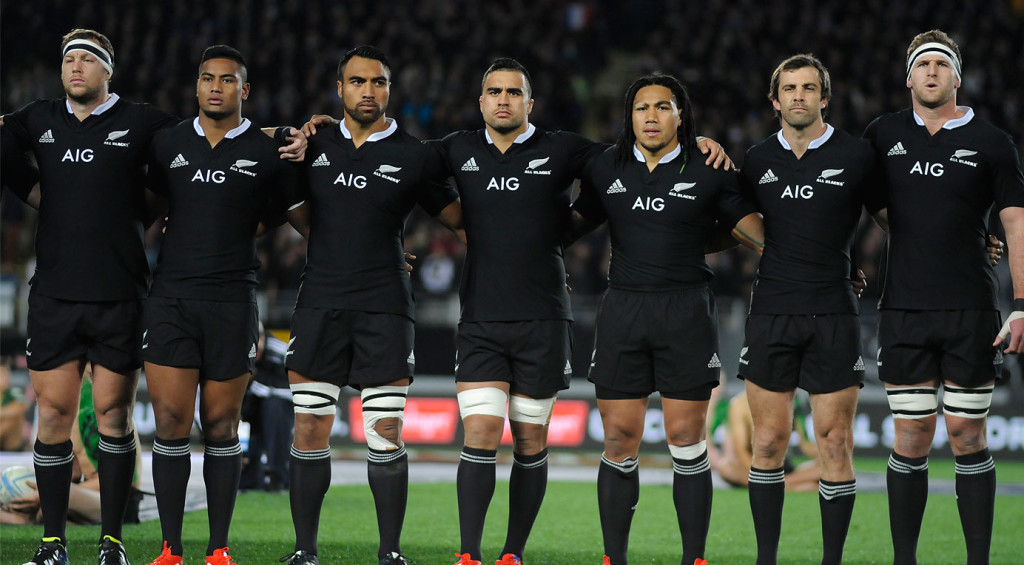 What: Rugby World Cup Final
When: 10 – 31 -2015  Doors open at 11:30am
Where: Roundabout Brewery
We are excited to show the final match of the Rugby World Cup 2015 down here at Roundabout Brewery.  Yes, we will have a TV here!  We will also debut a new bacon and egg pie from The Pub Chip Shop.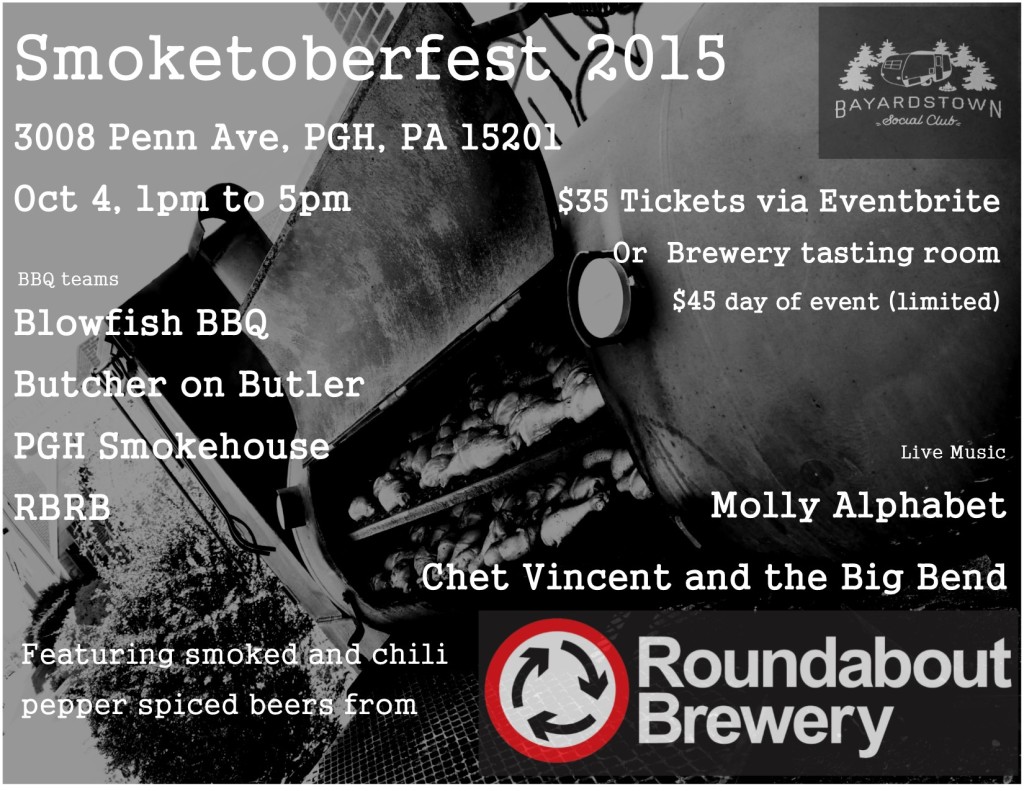 Proceeds to benefit the Lawrenceville Organic Community Garden. The LOCG provides a valuable service for the community of Lawrenceville by educating both young and old on the importance of community work, planning and maintaining a community/urban garden and the importance of respecting our community.
Beer line-up for Smoketoberfest 2015:
Smoke and Spice –  Our Oktoberfest infused with smoked habanero, jalapeno and serrano peppers from the Lawrenceville organic community garden.
Oak and Smoke –  Smoked French oak cubes added to our Oktoberfest beer.
Smoked Maple Doppelsticke
–   Penn Brewery's delicious higher alcohol Alt bier (8.5% ABV) with a dab of smoked maple syrup.
Ferdl Bock
–  A Bavarian style weizenbock with notes of clove, banana and caramel.
Jacked Up O' Lantern
–   A coffee stout with a bit of pumpkin pie spice added.
Oktoberfest
–  Amber lager with a nice biscuit/toasted flavor from use of plenty of Munich and Vienna malts.
Ginga Wheat
– One of the last kegs of the season.
BBQ Line-up:
Blowfish BBQ with ribs and smoked mac / cheese
Butcher on Butler with ribs and smoked bratwurst (made with Roundabout Oktoberfest)
Pittsburgh Smokehouse with brisket and smoked sausage
Roundabout Brewery and Rosich BBQ (Nick from Penn Brewery) team with ribs and chili pepper cornbread
It's been 'round about 2 years!
We are excited to celebrate one year of brewing craft beer here in Pittsburgh.
Sunday, July 12, 2014 12:00-5:00pm
Slim Forsythe and Friends will provide the tunes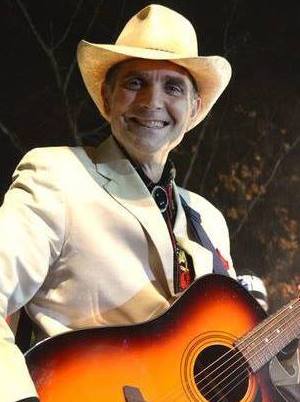 BBQ by Blowfish BBQ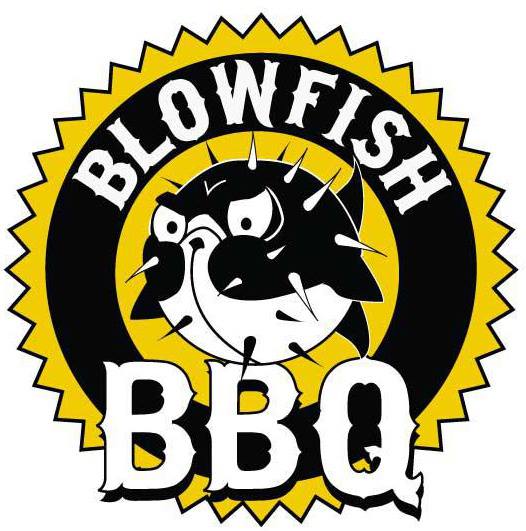 And ice cream treats from Leona's Ice Cream Sandwiches